Meet Our Encino, CA Dental Team

Behzad Abadi, DMD
Dr. Abadi is an honors graduate from University of Montreal, school of dentistry in Canada. He also has a Bachelor's degree of Science in Biochemistry from University of Waterloo. Dr. Abadi continued his education in California by obtaining a mini residency in aesthetic Dentistry from UCLA. This program provided extensive training in Cosmetic Dentistry. Dr. Abadi has two twin boys, in his spare time Dr. Abadi enjoys spending time with his kids, skiing, traveling and working out.

Dr. Omar Eloustaz
Dr. Omar Eloustaz is a friendly and dedicated general and cosmetic dentist licensed in California. Dr. Omar pursued his undergraduate education at the University of California Merced between 2011 to 2016. He earned his dental degree from the Touro College of Dental Medicine at NYMC in 2021. Dr. Omar has been a part of our team since the beginning of 2022. He enjoys being able to help patients with their smiles and overcoming their fear of dentistry. Dr. Omar loves art and enjoys drawing portraits  in his spare time. He also has an active lifestyle and enjoys weight lifting.
Nooshin Avali, Dental Hygienist
Nooshin Avali has been with our practice since 2021. She attended West LA college, where she received her Bachelor of Science in Dental Hygiene. She has a passion for dentistry and enjoys helping our patients set up the treatments that they need. It's very important to Nooshin to put her patients at ease and ensure that they have a positive dental experience. Nooshin also helps our practice to run smoothly and efficiently by making sure our team has everything needed to perform successful treatments. In her spare time, Nooshin enjoys hiking, going to the movies and listening to music.
Ana Maria Garcia, Office Manager
We have been so lucky to have Ana Maria on our team for over 15 years. She is a hard worker and works well with our team. Ana loves helping patients understand the importance of their oral health. Ana Maria has four beautiful kids: three boys and one girl. In her spare time, Ana enjoys going to the movies, going to her kids' baseball and softball games, and spending time with family.
Iris Caceres – Registered Dental Assistant (RDA)
Iris has been a valued member of our team since 2002. She has a positive attitude. Iris is friendly and gives good care to our patients. Iris enjoys working at our office because our team is like family. In her spare time, Iris likes to travel, go to the movies, and spend time with family.
Meet Our Downey, CA Dental Team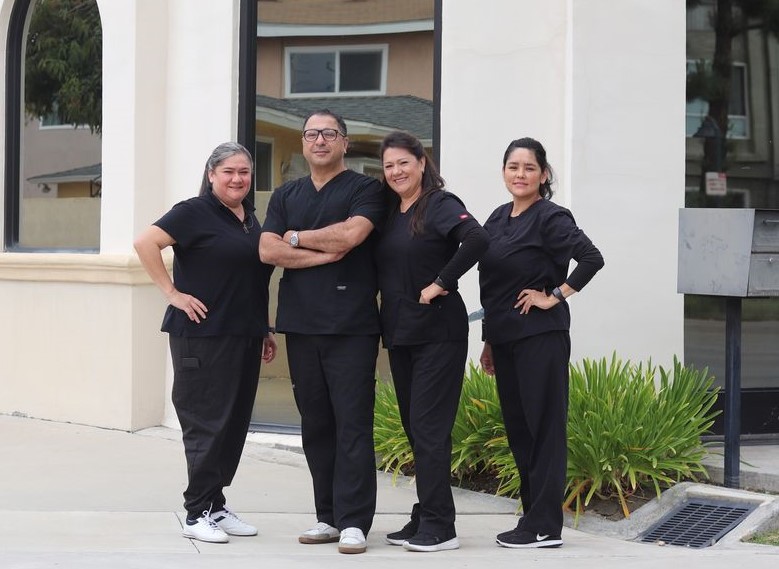 Dr. Catherine Nguyen
Dr. Catherine Nguyen was born and raised in Los Angeles, California until moving to Rhode Island for college. She attended Brown University, where she obtained her B.A. in Biology while researching craniofacial biology. Following graduation, Dr. Nguyen studied dentistry at UC San Francisco where she received her D.D.S. At that time, she decided to complete a postgraduate residency in hospital dentistry at USC in Los Angeles, California. Since then, Dr. Nguyen has been enjoying her work in private practice. In her free time, Dr. Nguyen enjoys spending time with friends and family, traveling, baking, reading and doing art.
Silvia Funes, Registered Dental Assistant
Silvia earned her degree from Bryman College. She has been a part of our team for over 20 years. She works hard and provides the best care possible for our patients. Silvia loves working here because our team is her second family. In her spare time, Silvia enjoys dancing.
Lupe Huerta, Office Manager
Lupe and Dr. Abadi have been working together for over 20 years.She enjoys helping and interacting with patients and she was able to build a relationship with our patients through the years. Our patients and staff enjoy her bubbly, positive personality and radiant smile. In her spare time, Lupe loves to spend time with her family specially her grand kids.Her goal is to retire in Mexico in her ocean view house.
Sandra Flemate, Front Office Receptionist/Dental Assistant
Sandra joined our team over 20 years ago. She is passionate about getting to know all of our patients and making sure they receive quality service and attention from our front office. In her spare time, Sandra likes to spend time with her family . Sandra also enjoys night time walks on the beach.
Yanelly Rubio, Registered Dental Assistant
Yanelly is our registered dental assistant. She has been in the dental field for 6 years and loves everything about it! Yanelly's goal is to make sure that patients have the best experience possible. She loves to spend time with her kids and do arts and crafts with them in her spare time.
Silvano Puente Santos, Registered Dental Hygienist
Silvano Puente Santos has been a part of our team for 7 years now.  Our patients know him as Vano. He graduated from West Coast University in Anaheim, CA. Vano received his Dental Hygiene degree in 2015. He loves his job and enjoys coming to work each day. Vano makes it his mission to educate his patients on good oral health and provides them the knowledge to maintain a beautiful smile for life. When he is not at Downey Dental, Vano enjoys going to music festivals, traveling to Mexico to visit extended family and cooking healthy food.